About Us
We specialize banner ad and marketing design
It costs thousands of dollars to place banner ads. So it pays to do everything in your power to make sure yours look fantastic.
20DollarBanners.com has been providing beautiful, affordable banners to clients all over the web since opening our doors in 2002. We were the very first company to specialize in banners. Before that, banner ads were just an add-on job to website design.
We started realizing that the add-on approach was really hurting customers, because it wasn't generating the kind of CTRs that they needed to support their businesses. And while we decided to continue offering many of the same services ourselves (Facebook covers, website graphics and custom web graphics) we treat each piece as a separate, individual project.
What does this mean? It means that every graphic design piece is custom made and carefully designed to help you support your business objectives. Furthermore, we're here to support you if you're new to Internet advertising. We're happy to offer a bit of "hand holding" so you get the best results from your banners.
Hey, 10,000 clients can't be wrong. With over 100,000 projects beneath our belts, we definitely have the experience that it takes to give you a phenomenal return on investment. And at just $20 to $30 per banner, you really don't have that much to lose.
2015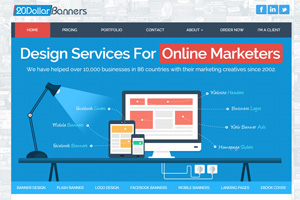 Our current design overhaul, including a brand new client backend and ordering system.
2012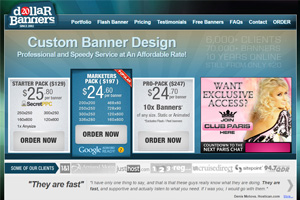 It has been 4 years since our last redesign so a relaunch was much needed.
2008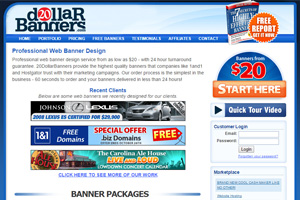 The last design was getting tired, and too cluttered, so we needed something cleaner.
2006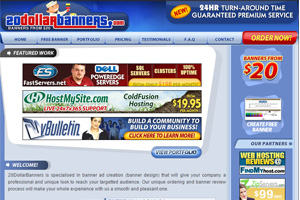 Time to get serious. A redesign, which by 2006's standard, it was pretty cool.
2004
The first version was so ugly, we had to replace it with less ugly design. Still ugly.
2002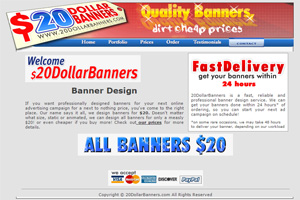 Our very first version of the site in 2002. It was really ugly, even by 2002's standard. Work was coming through via forums and word of mouth so a website wasn't a top priority.